Ok, so I listened to the MLS March to the Match podcast today, mostly about 4-4-2 diamond formations, and it got me thinking; what would the Timbers look like in a diamond, and could it help them be more effective given their personnel?
Here's a proposed lineup, followed by explanations: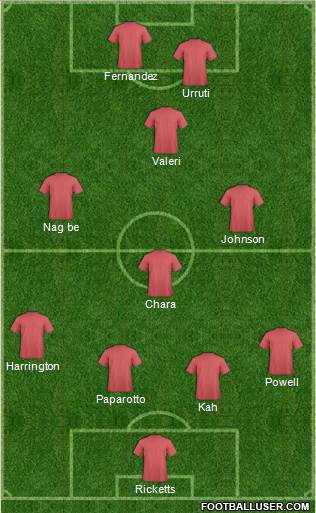 Goalkeeper: Ricketts, check. Anything else is either a contingency plan or future investment.
Backline: Paparatto and Kah at center back, barring any upgrades, which are still welcome. Papa left, Kah right. Harrington at left back, obviously. Powell at right back. In a diamond, where width is often sacrificed offensively, attacking fullbacks have great value for stretching the field in two axes. Powell has the speed and get-up to provide that, and can be covered defensively by Kah's range, the central defensive midfielder, and the right wing.
Midfield: Chara seems like a prototypical regista to me, albeit lacking some of the deep-lying playmaking skills traditionally associated with that role. That issue may be addressed later, both in this post and in the development of this team this season.
Diego Valeri is clearly the No. 10 point of the diamond.
I'd like to see Darlington Nagbe at the left wing, especially after he seemed to own the position in the Chivas match. One of the few bright spots in an otherwise dim performance, and one worth exploring more.
I envision Will Johnson's talents being best utilized on the right wing; he can cover for Powell defensively and time forward runs to be the "fifth man" overloading attacker when appropriate. (Hopefully for a patented Cap'n Crunch big goal.)
Forwards: Maximiliano Urruti and Gaston Fernandez. I know a 4-4-2 diamond is traditionally run with a target forward and channel runner up top, neither of which are Maxi or Gaston's strong suits, but I think this combo can approximate, with Valeri and Nagbe, the swarming hydra attack that Porter seems to like.
This formation is definitely laterally unbalanced, something Porter is clearly not opposed to. The creation of offense seems to obviously originate from the center-left. (Oregon political metaphor, anyone?) Between Nagbe, Valeri, Harrington's overlapping runs, and Maxi and Gaston slipping and sliding all over the place, the forward left quarter of the field is going to be a technical morass from which an attacking opportunity could erupt at any time, place, or direction. While the left side is where deliberate attacks could nucleate, the right side is for lightning, early or late. Powell has the speed (and Johnson the vision and ability) to break early into space wide right. Johnson has the savvy and stroke to fill holes in the attack and spaces left from overloading the opposite side, crushing goals from that late third-man run.
While Diego Chara may not have that chessmaster longball playmaking ability of Xavi or Pirlo, he has the destructive capacity of 75% of Makelele in 60% of the mass and a fraction of the salary. Also, after his brace against Seattle, I'll never be surprised at a previously unforetold explosion of skill from my favorite little hard soft man. Regardless, if Chara doesn't have that ball in his bag, there exists an outside chance (shrinking every subpar week) that Norberto Paparotto could someday show us the longball precision we were teased with in his YouTube highlights.
Whither Captain Jack? I see him as a wild card, to be played in any number of situations to allow the rest of the lineup to shift for specific tactical situations, either before the game in the starting lineup or as a situational substitute.
Opponent has a dynamic attack centered around their left wing or strikers? Put in Jack for Powell, hold Will Johnson hard in the middle-right, and instruct Valeri and the forwards to look for space on the right side of their defense.
Bunkering? (Shudder, I know.) Bring in Jack instead of Zemanski, get cool savvy instead of frantic buzzing and PKs.
A common issue with the diamond formation is the sacrifice of wide play; well, a common complaint of the 2014 Timbers is a lack of width. Maybe we just embrace it. It's possible Harrington and Powell could be the width, timing bombing runs well. I also envision the forwards splitting wide to combine. Neither Maxi nor Gaston is the type of target striker to sit in and dodge around the box waiting for service. They will both be very active and mobile, which could become a strength.
I'm not sure exactly how well Kalif would do in a diamond midfield, but I have a feeling he'd adapt; he's already surprised me with some heretofore unseen defensive acumen and stiffness this season. Also, whither Rodney Wallace and Steve Zakuani? I don't see either of them being particularly adept at (narrow) wide roles in a diamond midfield. I think Zakuani could work as a forward in this setup, and perhaps (shiver) we see the RodWall in as a fullback. It may also be that the formation gets reworked as those guys work their way in.
That's my backseat opinion on another possible formation. What do you think? Could the Timbers pull a diamond out of this rough season so far?